Symmtek is one of the nation's leading providers of premium high-temperature plastics that are uniquely developed for semiconductor manufacturing applications.
Our Semikon line of engineered polymer products includes a complete range of electrostatic dissipative(ESD), conductive, & Anti-Static compression molded polymers. These custom polymers are designed and refined from the ground up to accommodate static management applications requiring service temperatures up to 500F.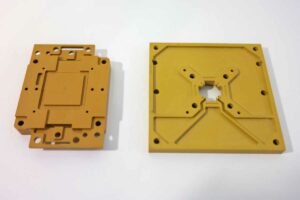 The superior quality, reliability and thermal performance of our Semikon polymer solutions has established Symmtek as a leading American provider within the semiconductor and solar-cell manufacturing industries.
Semikon products will deliver:
High degree of dimensional stability over a wide temperature range
Control Surface Resistivity
No sloughing
Extremely low Ionic Impurities
Extensive product portfolio for: CMP processes,Wafer Processing, Back-End test applications.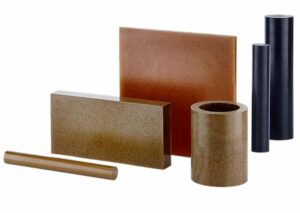 Overview and Advantages of Our Custom-Engineered Semiconductor Polymer Solutions
Our Semikon products feature specially engineered filler/reinforcement packages which impart high strength and stiffness over a wide temperature range. Designed for safe and efficient semiconductor production, Semikon products also prevent electrical discharge to or from human contact.
Semikon products are carefully compression molded using the latest custom molding equipment. This minimizes residual stress throughout the semikon molded product shapes. Furthermore, our precise compression molding capabilities ensure ease of secondary machining, allowing for very close tolerances required for precision components in industrial semiconductor manufacturing applications. Our additional in-house production capabilities include:

Injection Molding of shapes & parts
Stress relieving via specialized annealing and post-curing processes
Machining of precision components

Our diverse range of semiconductor polymer products are available in rod, tube, and plate and in several resins for very different performances: Polyamide-imide (PAI), Polyether-imide (PEI), Poly-ether-ether-ketone (PEEK), and Poly-Aryl-sulfone (PAS) (PPSU).
Your Single-Source Commercial Semiconductor Polymer Provider
Symmtek Polymers LLC is a division of KT Plastics, Inc. based out of Calera, OK. Our team of product experts possesses over 100 combined years of industry experience in custom polymer product design, engineering and development services. We offer our clients uniquely molded, machined and packaged polymer solutions to accommodate the most challenging commercial and industrial manufacturing applications.